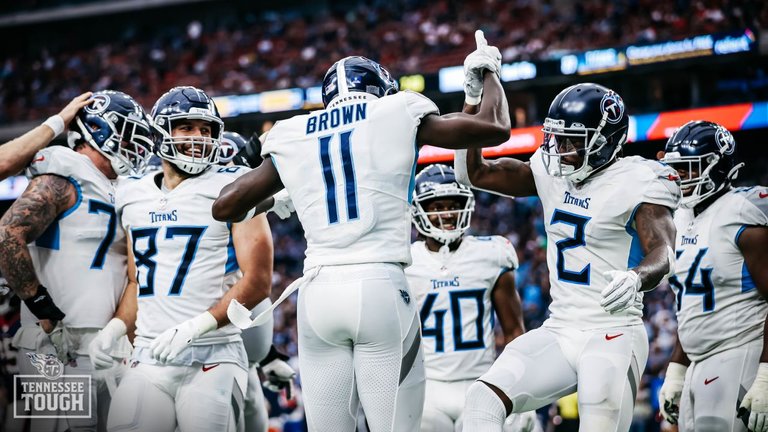 Src
Man what a game, I'm going to get hype and perhaps sentimental but I sure hope the entire Titans team feels like Kobe did after this 2009 Finals game.... Top seed for the Titans but.... I'll let Kobe spread the vibes LOL.
This Kobe video embodies why Kobe is loved by so many. Winning five championships doesn't hurt either LOL.
---
On Sunday afternoon the Titans faced the Texans in Houston in a BIG game for the Titans. A win for Tennessee would seal their place as the #1 seed in the AFC. Ideally, capturing that seed can be a massive tool to win the Super Bowl. Number one seeded teams only have to win three games to become Super Bowl Champions, whereas the twelve other playoff teams must win four. In addition to being off on Super Wild Card weekend, the top seed gets to play at home throughout the playoffs. Of course besides the Super Bowl.
So yeah, the Titans had a lot to play for on Sunday.
The Titans started out the first half against Houston HOT. Entering halftime with a 21-0 lead, the game honestly felt like it was over at that point. QB Ryan Tannehill had THREE touchdown passes in the first half, and the defense was on point.
Buuuuuut of course this game can't be complete without a Titans near choke. The Titans were up 21-0 AND they received the ball first in the second half.
But before I knew it the Titans 21-0 lead quickly turned into a 21-18 lead. The Titans looked like they were drunk and in quick sand. Just lost out there. Texans rookie QB Davis Mills was looking like Peyton Manning out there.
Right when things started looking somewhat grim QB Ryan Tannehill stepped up again after already having a strong first half. With the Titans big lead evaporated, and their top seed hopes starting to be in question it was so great to see the starting QB be clutch like this!

Man this was pure amazing entertainment as a Titans fan. Truly this was probably Tannehill's best drive of the season literally when the team needed it most.
When this play happened on this drive man I got GOSSEBUMPS! Amazing! I was soooooooooooooo damn excited!!!! Sheer will to win. Sort of reminds me of another classic play in Titans history. Hopefully this season ends with the Lombardi Trophy in Nashville!

To end this drive with Julio's first TD as a Titan was just perfect too! Hopefully that's a sign of big things to come for Julio in the playoffs!

The Titans would go on to win 28-25. A.J. and Julio each had a TD!!!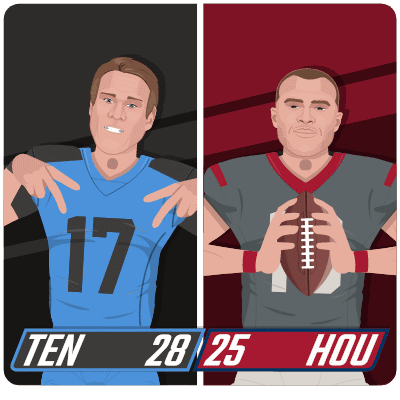 The Titans got the job done!!!! Top seed in the playoffs!!!!! So proud of this team. I can't express that enough. This has been special to watch.
The Titans finish 12-5. 12 beautiful wins for the Titans. Just three more in a row please....
Derrick Henry is set to return in the playoffs!!!!
---
At this point, I was going to try and maybe share some of the Titans stats from the 2021-22 season. Share some thoughts of how awesome this season has been. But now, I have decided against it.
It's arguable that now may be appropriate since the regular season is now over. That may be true, but the season is not truly over. Part one is over.
The time to reflect on this season can happen whenever the fat lady sings, and the fat lady has not yet visited Nashville. Hopefully she is singing after the Titans are Super Bowl Champions.
I may just be a fan on a highly irrelevant blog but something about writing about how great the season was just feels wrong. No time to be even close to satisfied.
Nobody remembers a team for simply being the one seed... CHAMPIONS are remembered.
I will of course always be grateful as a Titans fan for how great this team is, but this Titans team deserves more. EVERYONE should remember this team. The opportunity for the Titans to be remembered is in February.
Once again, I am going to post this. I don't care if it's weird to post twice...
JOB'S NOT FINISHED DAMNIT!!!!
---
It's a pretty awesome feeling knowing that the Titans will be watching this game from their couch while twelve other teams are smashing into each other, playing for their football survival.
Hopefully the players and coaches are watching closely. Preparing and cooking up plans.
As soon as this wild week 18 ended, the butterflies and nerves have started bubbling within me as a fan.
This is about to be a wild, exciting playoffs. Look out for some playoff previews by me! I would like to try and preview each game! Every matchup is exciting!!!!
---
What are your thoughts on the Titans season so far? Thoughts on the NFL season in general?
#TITANUP!!! EVERYTHING TO PLAY FOR!