The NFL has always lagged behind the NBA, MLB and the NHL when it comes to the management and punishment of weed in the league. Can football players smoke weed with the NFL's current Collective Bargaining Agreement? Let's find out and dig deeper into the NFL drug policy.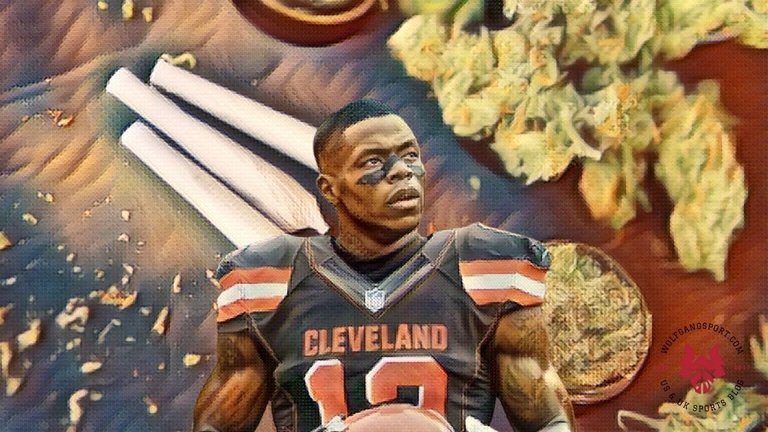 Can NFL Players Smoke Weed?
Yes. NFL players are allowed to smoke weed under league rules. Under the current CBA which came into effect March 2020, no testing for the major chemical in weed - Delta 9 THC-carboxylic acid - will be tested for between April 20th and August 9th. The highs continue, as the start date of the non-testing window magically aligns with 4/20, the annual celebration day dedicated to marijuana.
Once training camp opens in August, players will be tested for THC however the threshold for testing positive for weed has increased by more than four times. A reading of 150 nanograms of THC is needed for a positive drug test to show up. That's an increase from the 35 nanograms it was under the previous CBA and what the current limit for NBA players. That's fantastic news for football players who smoke weed.
Does the NFL Test For Weed?
Under the previous CBA all players were tested at least once during the offseason, and 10 players selected each week for random tests during the regular season. All players will still be tested during April and August however the main chemical in marijuana, THC, will not be tested for.
In terms of random testing during the season, the league has separated marijuana and opioids as 'Substances of Abuse', seen here under it's new policy, differently to performance-enhancing drugs. Players enter a treatment program and avoid suspension for substances of abuse under the new policy.
Weed is now legal in the NFL between April and August as THC is not tested for. It's a positive step from the league, as weed is legal in more than 30-states for medicinal use and legal in more than 10-states for adults over the age of 21.
NFL Drug Policy
The NFL has historically been harsh on NFL players smoking weed. Players faced long suspensions, sackings and even were banned for life for smoking weed. NFL owners have been impacted by the historically tough policies, lengthy suspensions having impacted teams from putting their best players on the field.
For example, former NFL running back Ricky Williams was suspended five times in his career for testing positive to weed, including a suspension for the entire 2006 season. Despite smoking weed during his career, Williams scored 66 touchdowns and rushed for more than 10,000 yards in his career.
Former Pittsburgh Steeler wide receiver Martavis Bryant was another who copped a suspension for an entire season, missing all of 2016 for smoking weed. He was conditionally reinstated to the league in 2018 joining the Oakland Raiders, only to be suspended indefinitely again for violating the terms of his conditional reinstatement.
There are many more examples, but these are just some instances of the harsh stance the NFL has had on weed especially when you consider Ray Rice's initial two-game suspension for a 2015 drunken rampage where he knocked out his wife. It was only once footage was released that Ray Rice would be released.
Under the new CBA, a 'neutral decision-maker' ultimately decides on the official ruling on most disciplinary cases whereas it was the commissioner under the old CBA.
NFL Marijuana Punishment
Under current NFL marijuana punishment guidelines, players no longer need to fear being suspended for a positive marijuana test between the months of April and August, so NFL players can smoke weed between this time. Levels under 150 nanograms of THC will also mean a passed drug test all year round. As per the NFL's Policy and Program on Substances of Abuse seen here, punishment for a failed drug test will see them enter Stage One of the Intervention Program outlined under the policy.
Players may be subject to unannounced testing and only if a player fails to cooperate with the evaluation process or fails to comply with a Treatment Plan will they be fined two-seventeenths of their base salary and move onto Stage Two of the Intervention Program. Only players who fail to cooperate with the evaluation process or fail to comply with a Treatment Plan in Stage Two will face suspension:
What Drugs Are Banned in NFL?
The list of Prohibited Substances in the NFL includes anabolic/androgenic steroids, protein and peptide hormones, anti-estrogenic agents, selective androgen receptor modulators (SARMS), masking agents and stimulants. You can check the full list here as per the NFL's Collective Bargaining Agreement. The list spans 22-pages and includes. The NFL's Policy and Program on Substances of Abuse can be seen here. This policy focuses on the abuse of cocaine, marijuana, synthetic cannabinoids, opiates and opioids, methylenedioxymethamphetamine (MDMA) and phencyclidine (PCP).
...do NFL players smoke weed? I'll be back tomorrow to talk about that.
THANK YOU FOR YOUR SUPPORT!
Wolfgang Sport started in 2017 as a way to connect my passion for American and British sports. Today it's evolved into a blockchain sports blog pushing the boundaries into the crypto world and embracing Web3 technologies.