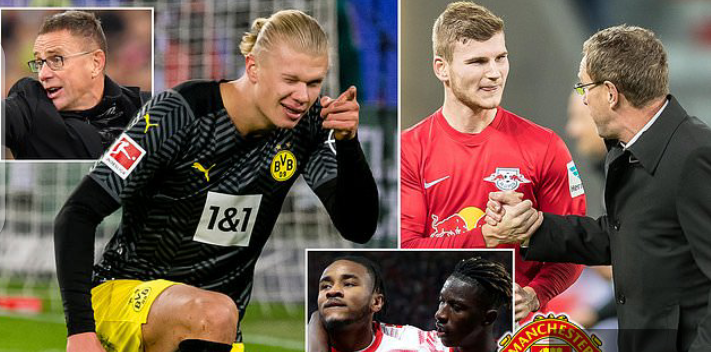 Statements making the rounds in England suggests that new Manchester United boss Ralf Ragnick is already planning to revolutionize the Old Trafford giants. According to the news Ragnick is plotting a handful of top transfer targets of Manchester United. The revelations point to the fact that Ragnick hopes to bring the likes of Erling Haaland, Timo Werner along side Leipzig pair of Nkunku and Amadou.
Ragnick's move to Manchester United
Ralf Ragnick was announced as the new temporary coach of Manchester United on Monday. From the details of his contract, Ragnick would remain at the helm of affairs until the end of the season. After the elapse of his 6months at the Red Devils club, he has been granted the option to take up a two year consultancy role at the club. Ralf
Ragnick's style of play
The German manager is known for an extremely attractive style of play. As he expects his players to put in so much pressing and energy to their game. According to reports, the Manchester United boss is currently targeting the likes of Erling Haaland, Timo Werner in his strike force along with the Leipzig pair of Nkuku and Amadou. He believes that these players would emerge as instrumental players even for the next manager to come.
Summary
Without a doubt, Ralf Ragnick has made his intentions clear that he has the longterm future of Manchester United at heart. Hence why he is making these plans for the Old Trafford giants. That being said, it would be interesting to see how the team shapes up in the coming months