Key match stats LSG vs GT
Pitch Stats – Maharashtra Stadium
Average first innings score: 174
Average first innings winning score: 179
Average powerplay score: 43
Win % batting 1st vs batting 2nd: 73% / 27%
Team form LSG vs GT
LSG – WWWWL
GT – LLWWW
Recent meetings: GT won by 5 wickets
LSG vs GT Preview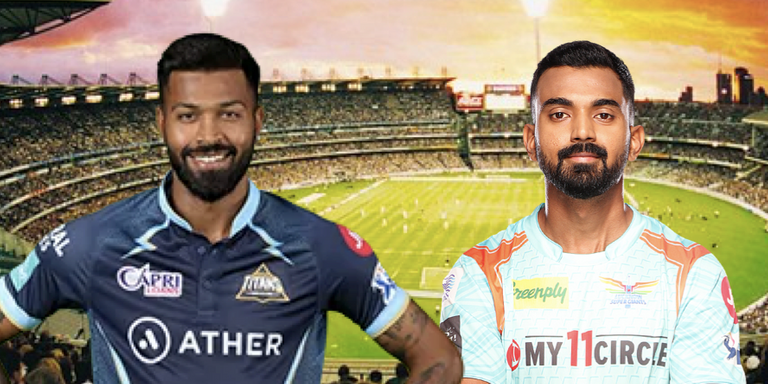 At least throughout the last 10 years of the IPL, stability seems to have been the key to success as highlighted in the dominance of franchises like Mumbai Indians and Chennai Super Kings over the same period who have generally stuck to the principle of retaining a core of players and adding around them as necessary.
How is it then that this season we've seen those teams who have favoured stability over all else struggle so badly against sides who were cobbled together over night and come into IPL 2022 with no prior form or identity?

Of course, several of those more established sides have contributed to their own downfall in a variety of ways so it's not just the fact that their desire for stability has left them short of new ideas but as we move to the conclusion of the 2022 season the success of the new franchises will certainly give pause to thought for those currently towards the bottom of the league that an occasional freshening up of the squad might not be the worst idea in the world.
LSG continued their fine form in the later part of the season with a convincing victory over KKR on this very ground last time out to make it 4 wins in a row and catapult them into first place ahead of today's opponents GT who have had a bit of a wobble with back to back defeats.
As predicted in the LSG vs KKR preview, the fast bowling stocks that Lucknow possess were too much for a fragile KKR batting line-up on a Maharashtra pitch which does have pace and bounce in it.
| Team | Totals wickets taken by pace | Pace bowling S/R |
| --- | --- | --- |
| LSG | 47 | 16.5 |
| KKR | 48 | 16.7 |
| CSK | 40 | 18.0 |
| SRH | 53 | 19.2 |
| DC | 40 | 19.3 |
| GT | 51 | 19.5 |
| RCB | 42 | 20.7 |
| RR | 36 | 20.8 |
| PBKS | 39 | 22.0 |
| MI | 38 | 23.0 |
LSG's pace bowlers have the best strike in IPL 2022, meanwhile GT are one of only 2 franchises whose quicks have taken over 50 wickets so far this season (stats accurate as of match 55)
In fact, both sides attacks should enjoy the conditions here in Pune and I would imagine that tactically speaking we'll see both batting line-ups approach the powerplay in a more conservative manner in the knowledge that this is a venue where you can lose the match within the first 6 - 8 overs of your innings if you go too hard, too early.
It's also a venue where batting first continues to be the preference with almost three quarters of winners here having been the side to set a total.
While that seems to have been the pattern of things for most of the season at the Maharashtra, we are now seeing it spread to all the venues currently in use in the IPL with 7 of the last 8 matches having been won by the side batting first.
| Games | Win % batting first | Win % batting second |
| --- | --- | --- |
| 1-35 | 46% | 54% |
| 36 onwards | 62% | 38% |
Since around the half way point of IPL 2022 we've seen a shift towards sides batting first claiming more victories
It's tempting when you see big swings in statistics like the above to assume that the conditions under which matches are being played have changed dramatically. Certainly there has been a shift in that regard but it's still a relatively small one.
The pitches are a little drier and favouring slow bowling more than they did at the start of the tournament when we saw some live grass and early movement but generally these are still good cricket wickets with something for everyone.
The bigger factor to my mind is that when you play a tournament of 70 matches that is condensed across just 4 venues then sides naturally become more confident about what a good score is on a specific pitch and how to go about pacing their innings accordingly.
If you listen to the post-match interviews of the losing captains during the last 4 matches in the IPL (all won comfortably by the sides batting first) then you'll hear a common theme - we didn't play well enough! No one is blaming a change in condition or suggesting it's suddenly become impossible to chase in IPL 2022.
Therefore, while the stats may suggest that winning the toss at this venue (and maybe all the venues) is all important, I would still imagine that performance will be more significant than calling heads or tails correctly in determining the outcome of this game.
LSG vs GT head to head
GT bowling vs LSG batting
I mentioned in my last preview of LSG the importance of dismissing both KL Rahul and QdK early and it seemed like KKR had the dream start when they got rid of the former without him having faced a ball. In fact, KL Rahul who sits second in the battle for the Orange Cap has enjoyed batting at every venue in IPL 2022 with the exception of this one!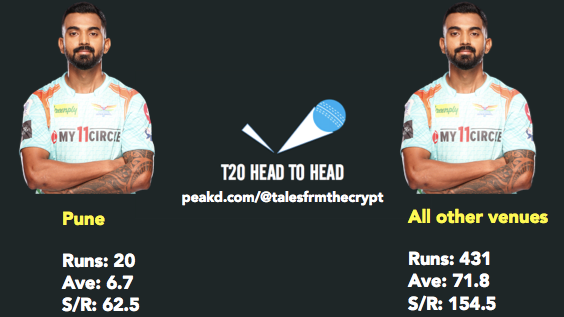 KL Rahul's career stats at Pune vs his IPL 2022 stats at the other 3 venues
If GT can make early in-roads against this Lucknow top order then they'll also feel confident that they have sufficient match-ups going down the line-up that they can restrict their scoring here today.
Deepak Hooda did well batting at number 3 in the game vs KKR but there is still the sense that perhaps he and Krunal Pandya at number 4 are both at least a spot too high in the order. If Gujarat can get get Pandya in early then they'll be keen to let Mohammed Shami have another crack at him.
Mohammed Shami vs Krunal Pandya T20 head to head
Marcus Stoinis' role in the IPL over recent seasons for both DC and now LSG has been converted to one of finisher in contrast to that which he plays in his native Australia where he generally opens the batting for his BBL franchise the Melbourne Starts.
No doubt that he has the power game for later in the innings but partially at least, the move to bat almost exclusively in the final third of the innings will be to protect him from the various high quality wrist-spinners that are on show here in India and which historically Stoinis has had a problem picking.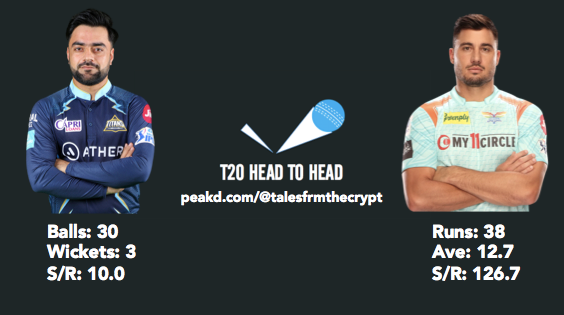 Rashid Khan vs Stoinis T20 head to head
As a result of his shift down the order, Stoinis has had to face just 7 deliveries from Rashid Khan in the IPL with the Afghan still managing to dismiss him once. No doubt, they will be saving an over of Rashid for when the big Aussie strides to the crease.
LSG bowling vs GT batting
We've mentioned already the strength of the LSG pace attack and their liking for conditions here at the Maharashtra Stadium. The below shows the combined stats for their 4 primary seam options who are likely to play today (Avesh Khan, Chameera, Holder and Mohsin Khan) at Pune.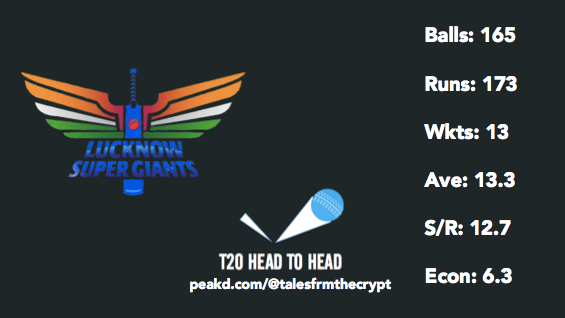 Combined T20 stats for Avesh Khan, Chameera, Holder and Mohsin Khan bowling in Pune - all 4 bowlers have taken at least 3 wickets at this venue this season
With stats like the above, it's no major surprise that LSG have romped to victory in the 2 games they've played at this venue this season.
By contrast, Wriddhiman Saha who has become a crucial player at the top of the order for Gujarat has a fairly poor record in Pune with a career average of 17 from his 5 matches played here. However, his recent form suggests he might be able to reverse that trend and his 149 runs in the powerplay at a strike rate of 143.3 make him the 4th fastest scoring player during that phase of the game (min 50 balls faced) behind the DC pair of Warner and Shaw and Rahul Tripathi.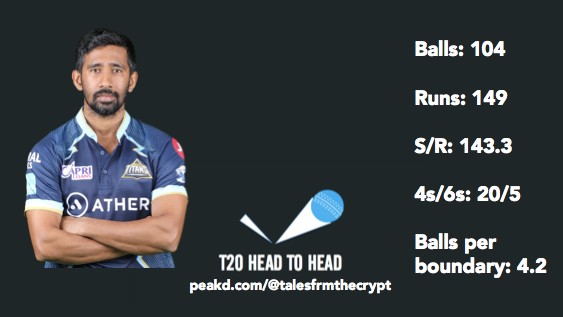 Saha powerplay batting stats in IPL 2022
Indeed, GT will need their top order to fire in this match having been so reliant on the middle to lower order to get the job done throughout the season. Of course, they nearly pulled it off again vs Mumbai Indians during their last match but David Miller couldn't quite deliver what would have been a third 6 to win off the last ball in IPL 2022.

All stats used in this blog are from my own database which is freely accessible at T20 head to head. Images are my own with the exception of player profiles and background images which are used under a creative commons license or otherwise royalty free