DISCLAIMER: This is about MMA
I sworn to myself at first, that I wouldn't do a preview this week, as there is already some excitement in the world of Sport Talk Social with the current Bucket List topic being explored, but after looking at the card, there are lots of decent names that deserves a to be talked about.
The main event, is 2 big names of the Light heavyweight division, with Thiagos Santos vs Johnny Walker, rest assured that it won't be a boring fight, and the rest of the card is equally as interesting, with Kevin Holland vs Kyle Daukaus, Alex Oliveira vs the fan favourite Niko Price, and even a surprisingly interesting women matchup with Aspen Ladd vs Macy Chiasson. I might even talk about Alexander Hernandez, once again...
Light Heavyweight·Main event
Thiago Santos (21-9-0) vs. Johnny Walker (18-5-0)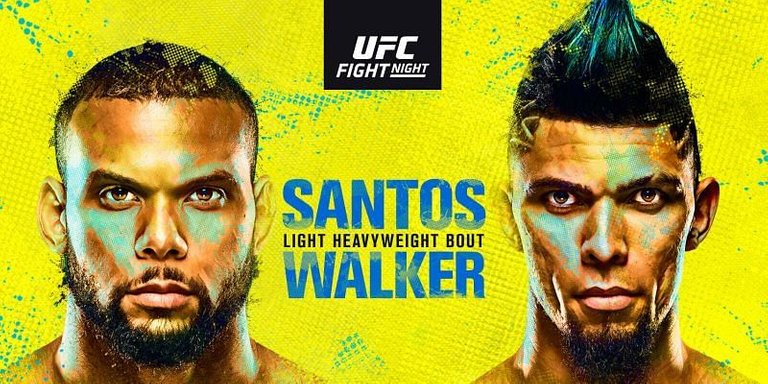 Thiago Santos became a fan favourite after fighting Jon Jones, a fight that a lot of people thought he won, unfortunately it hasn't been going his way lately, on a 3 fights losing skid.
Interesting to note that his last win, was against the current champion Jan Błachowicz, so take his 21-9 record with a grain of salt, as 15 of his wins are by knockout or TKO, it just show his true power and where is strength reside.
His opponent has a similar reputation of a knockout artist, with around the same amount of knockouts, the main difference for Johnny Walker is that he is coming off a win against Ryan Spann, though it could have very well be a short night for him, as he almost got knocked out in the first round.
And that's the problem with Johnny Walker, as much as he is exciting to watch, he is sometimes too careless and takes risk that could cost him fights, and change the course of his career.
On paper, Johnny Walker is a lankier fighter, and will use his range, it's very probable that Thiago take it to the ground, and dominate the fight.
It might also just turn into a stand up battle, I think everyone is expecting Johnny Walker to do something crazy like a flying knee, while Santos will show his maturity, and will dig in with body shots, especially kicks, which my be a turning point in the fight.
Middleweight·Co-main
Kevin Holland (21-7-0) vs. Kyle Daukaus (10-2-0)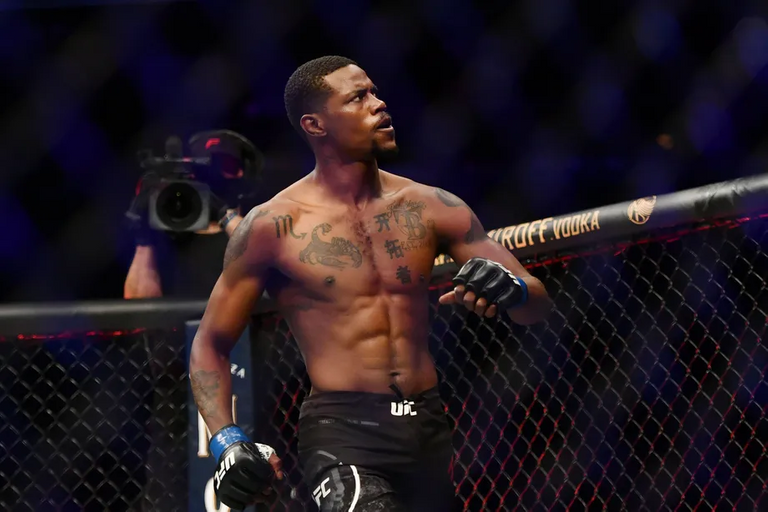 As much as I would like to believe that Kevin wrestling game has improved since he joined AKA and wrestled with DC, I don't think we can expect a giant step, though I don't think it will be a major problem against Kyle Daukaus, as he isn't the strongest middleweight, I think we will see Holland being able to get back up quicker than he did against Vettori or Brunson, and we probably will see a knockout by Kevin Holland, and if not, it might be hard for Holland to keep a spot in the company.
It's a pity because he is a very interesting character, maybe too much of a shit talker for some, I personally enjoy having a different type of personality, some fighters are so similar, it's boring sometimes, a guy like Holland is what makes the sport interesting.
Welterweight
Alex Oliveira (22-10-1, 2NC) vs. Niko Price (14-5-0 , 2NC)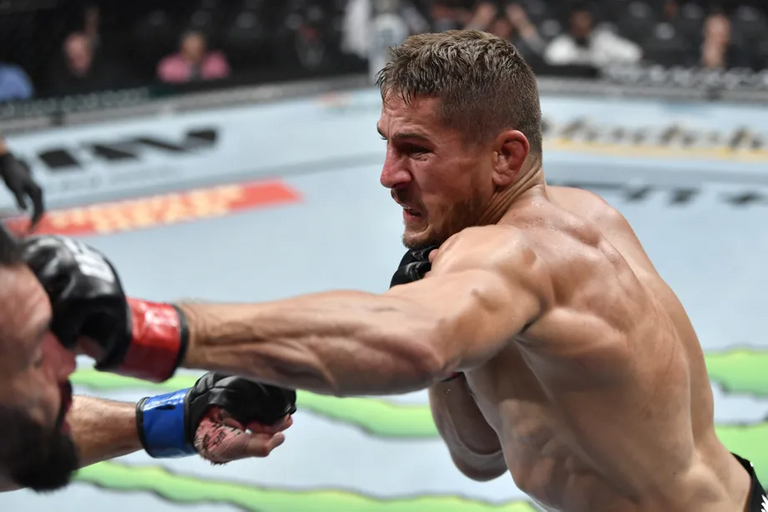 This is the fight that I personally prefer, Alex and Niko are both crafty veterans, that always bring some fireworks.
They both haven't been in the greatest form lately, both coming off losses, it feels though that Niko will probably have the edge, his pressure and volume will be too much for Cowboy Oliveira, that tends to fade away in later rounds, whereas it's the opposite for Niko.
My only prediction tonight, will be a win for Niko by unanimous decision.
Middleweight
Misha Cirkunov (15-6-0) vs. Krzysztof Jotko (22-5-0)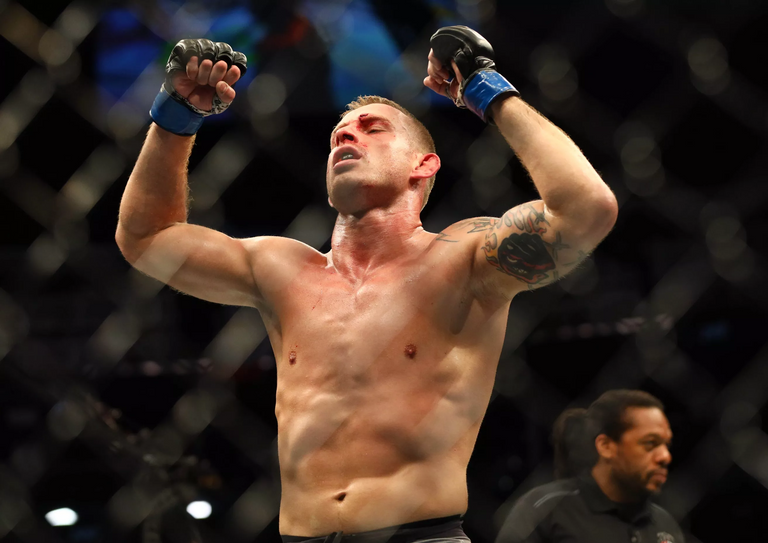 Misha is moving down to the Middleweight division, his last fight was only 6 months ago, let's keep in mind that there are 20 lbs difference between the Light Heavyweight division and the Middleweight division, for now it's difficult to make a prediction, it will be one of those tough competitive fight, I might change my pick once I get hands on footage of the weigh in on Friday.
He is facing Krzysztof Jotko that has been in the UFC since 2013, a good fighter that always seems to lose against top ranked opponents, like Sean Strickland or Uriah Hall. He is not a fighter that has a lot of power, and often wins by decision, and is looking to win that way.
Unfortunately, that is the only way he can win against Misha Cirkunov, and knowing that he won't be scared to be tagged by Jotko, I predict that Misha will march forward, and throw some big shots, might get it to the ground and use his weight advantage, possibly win by submission in the second round.
Women Bantamweight
Aspen Ladd (9-1-0) vs. Macy Chiasson (8-1-0)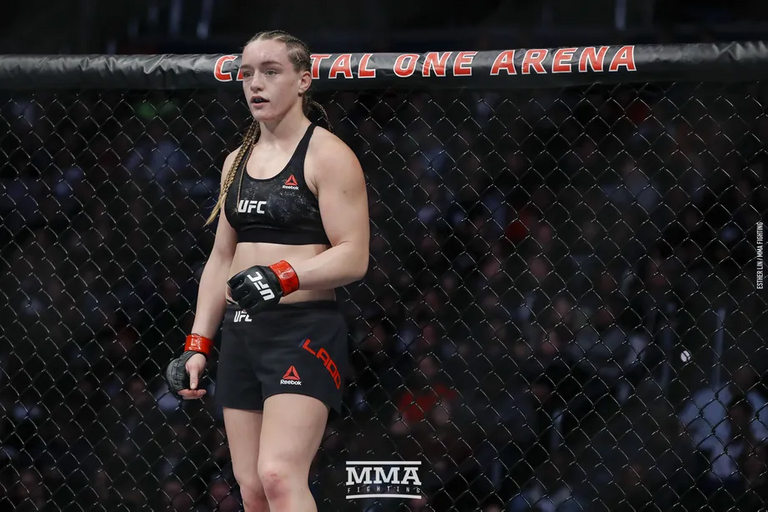 src
Another interesting fight with 2 prospects. it's not exactly your "striker vs grappler", as Macy is also decent on the ground, but it's pretty clear that Aspen will make sure to wrestle against her, and Chiasson's ground defence isn't exactly impeccable, she got taken down by Marion Reneau who isn't the best grappler, so unless she really manages to stay out of shooting range, using her clear reach advantage, and establish the jab, there is little chance for her to win against Aspen Ladd, who is a far superior wrestler, who will win by decision.
Lightweight
Alexander Hernandez (12-4-0) vs. Mike Breeden (10-3-0)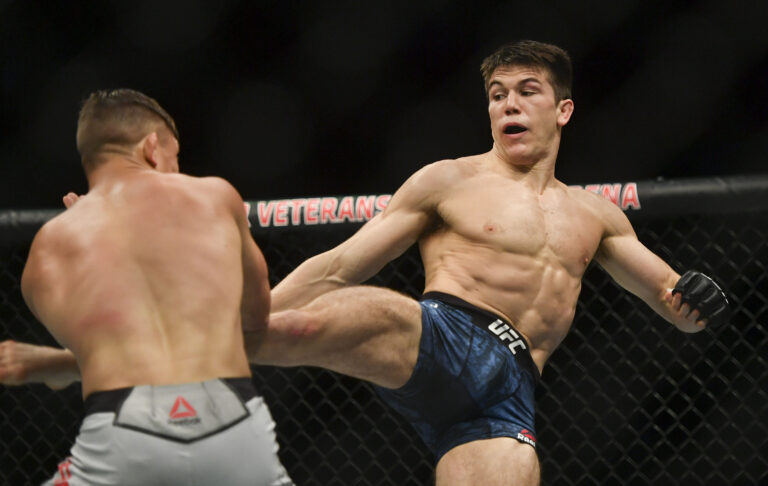 it's the last fight that I am interested in for this event, Alexander was supposed to fight Leonardo Santos but the fight was pulled out, it's now Mike Breeden that is booked instead.
Even if you don't like his brash attitude, you have to recognize Alexander's power, there is a lot of chances that he will try to knock Mike Breeden out, and vice versa. I truly hope that the fight stays on the feet, and if it's the case, I can ensure you that one of them is going to sleep.
Mike is coming on a week notice, the odds are heavily in favour of Hernandez, which isn't surprising, as he is faster, more powerful, and have more tools to win.
That's a knockout for Alexander "The Great" Hernandez!
Rest of the card:
Lightweight
Joe Solecki (11-2-0) vs. Jared Gordon (17-4-0)
Women Flyweight
Antonina Shevchenko (9-3-0) vs. Casey O'Neill (7-0-0)
Women Bantamweight
Bethe Correia (11-5-1) vs. Karol Rosa (14-3-0)
Lightweight
Devonte Smith (11-2-0) vs. Jamie Mullarkey (13-4-0)
Bantamweight
Douglas Silva de Andrade (26-4-0 , 1NC) vs. Gaetano Pirrello (15-6-1)
Women Bantamweight
Stephanie Egger (5-2-0) vs. Shanna Young (8-4-0)
What is the fight that interest you the most this Saturday? Let me know who you have for the main event.