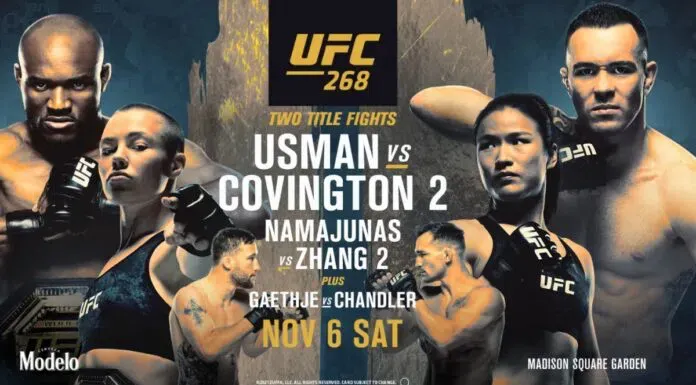 Now that I've got your attention, let me explain myself...
Dana White has decided to put back to back, 2 of the biggest cards of the year, crammed with the biggest names, so the only explanation I could find, is that he knows something that we don't, like these guys at the Cyber Polygon Event from the World Economic Forum.
If I were Dana, and learned about an imminent "event", I would probably stack a whole bunch of shows before the lights are out, I can then go spend the rest of the apocalypse in my secret bunker.
What is Ed rambling on about again?
One might argue that Dana would still find a way to make money during a Zombie Apocalypse, I would pay a lot of money to watch Brock Lesnar vs Zombie Cain! (it's a lie, I wouldn't pay a cent)
All right, back to business, can you feel that indescribable feeling in the air?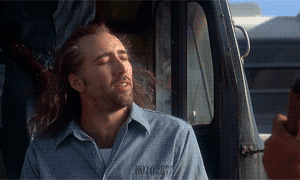 It's....Time!!
Maybe I shouldn't have used good old Bruce Buffer's catchphrase, as he won't be doing the announcement in Madison Square Garden, crippled with a severe case of COVID, in his dying breath he managed to say one last word to the press: "Thanks god I am vaccinated"
While we all coming down from last week event, are we going to see fights of the same magnitude this week?
I am definitely excited about Gaethje vs Chandler, as it's a fan favourite and a lot of speculation has been made about these 2, but I am also down watching some rematches, Namajunas vs Zhang which was very quick to judge, and another fight that was probably the most competitive oppostition for Kamaru Usman, the entertaining Colby Covington who is coming back with a VENGEANCE.
Welterweight·Main event
Kamaru Usman (19-1-0) vs. Colby Covington (16-2-0)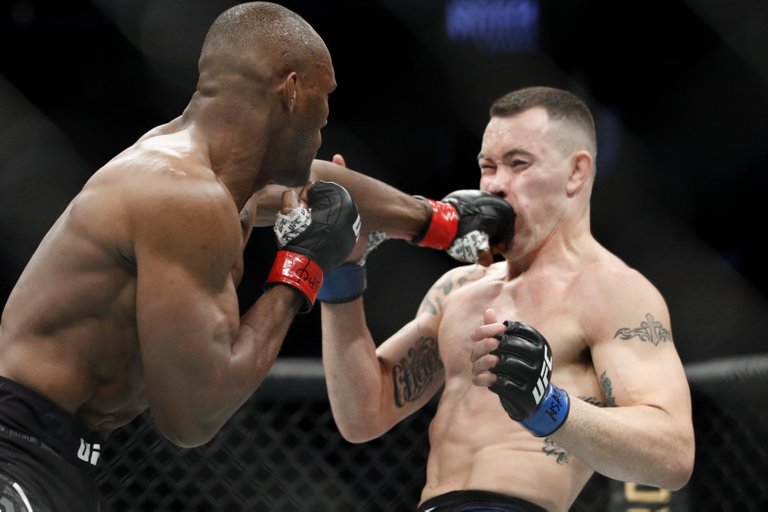 src
I remember the first fight very well, so why are we doing this??
Well, first if you look into the welterweight division, there aren't any other competitors for Kamaru, the 2nd contender just won against Stephen "Wonderboy", Vincente Luque might be fighting Nate Diaz, and I don't think The Nigerian Nightmare is ready to give Khamzat Chimaev a shot, because he is just scaring the shit out of everyone, is that enough to deserve a title shot?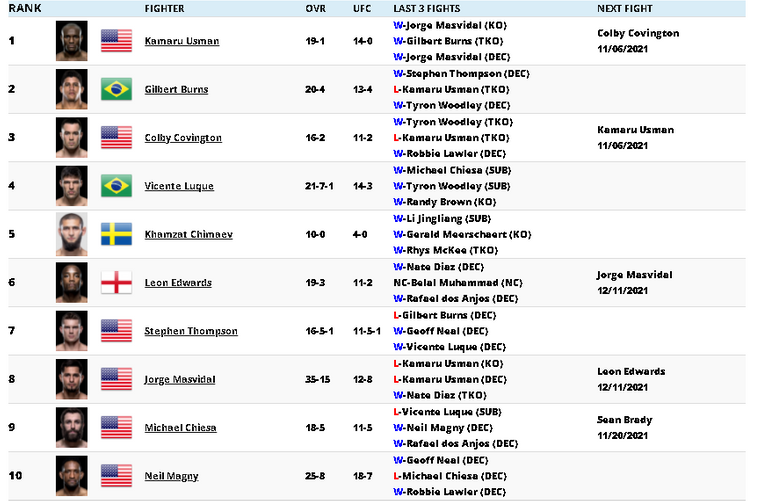 So the next in line, is Coby Covington, who seems to have learned a few tricks since their first fight, changing his striking coach, focused with American Top Team, but Kamaru also improved since their last bout, and something clicked lately, the last piece of the puzzle, that makes great athlete become great champions: The Confidence.
Kamaru now knows that he can knock anyone out, and will probably unleash combos on Colby, but opening himself by the same occasion. Man, I can't believe I am saying that, but Covington is a bad matchup for Usman, and after the year full of surprises we had, I wouldn't count him out.
Women Strawweight·Co-main
Rose Namajunas (11-4-0) vs. Weili Zhang (21-2-0)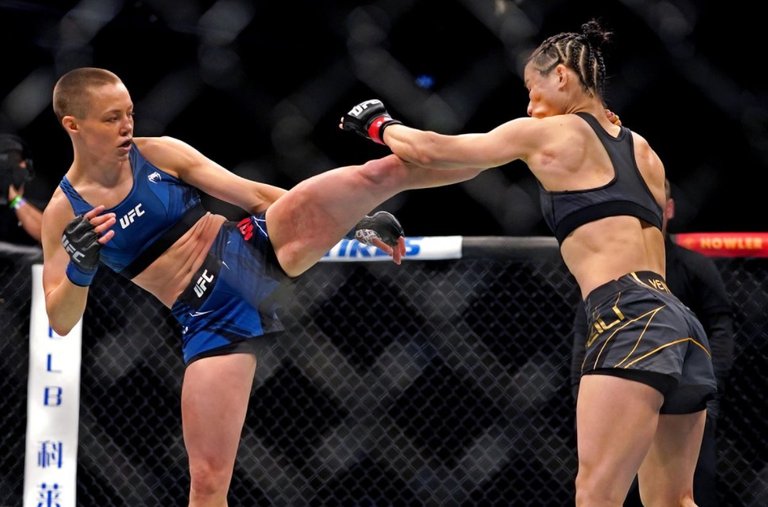 src
Are you as excited as I am for this one?
I still remember hearing the chants of the audience, Thug Rose in tears on the microphone shouting with a smile:
I am the Best
Now, I don't think this time around, the fight will be the same. Rose might be strong on the ground, according to Pat Barry her coach-husband-extraordinaire, but Zhang's wrestling will be far superior.
Moreover, she's been now training with CCC Henry Cejudo, who will make sure that her wrestling is "MMA ready", and help her with closing the distance, I will be very surprised if Zhang Weili get caught with the same kick, with a tighter guard though you can never really count Rose out. I have to admit, that I am loving the tutelage of CCC, he is by far one the smartest fighter in the business, and will bring Zhang Weili to another level.
Do I want Rose to win?
No, I love underdogs stories, she was the underdog in the first fight, but now is a champion, I am vouching for the new underdog haha. 😄 Savage...
Lightweight
Justin Gaethje (22-3-0) vs. Michael Chandler (22-6-0) - The Ultimate Backflip Championship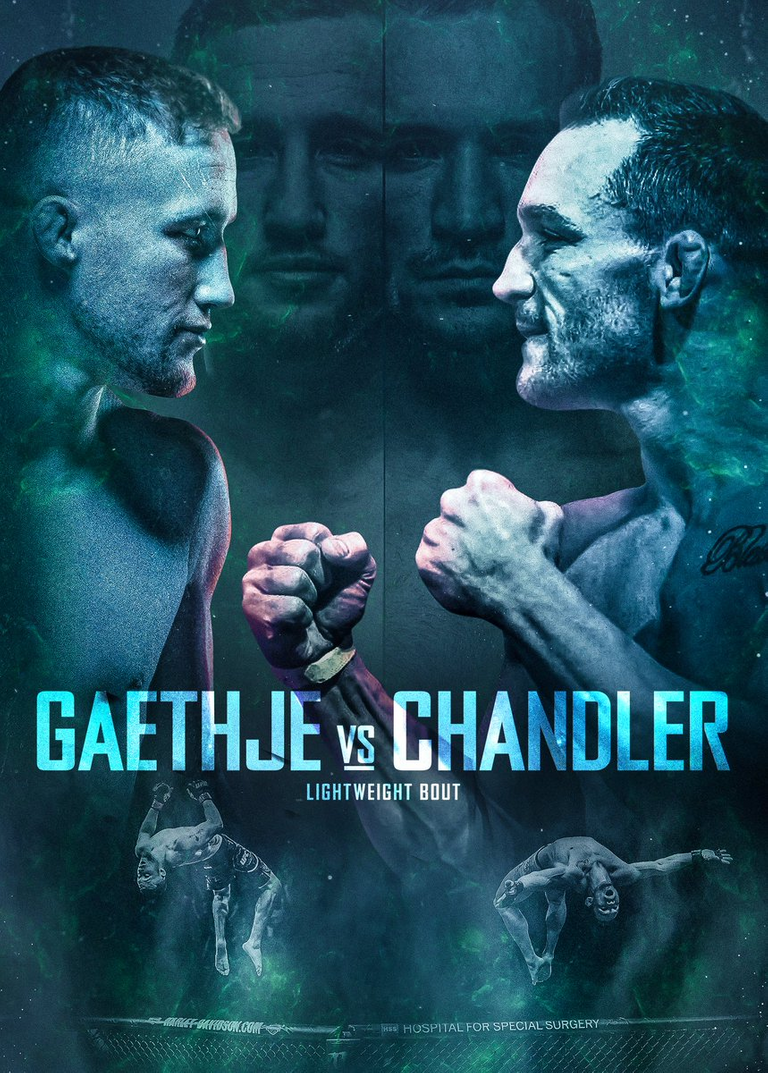 Last week, I was explaining how I am completely biased toward the Lightweight division and I think it's the most entertaining division in the UFC, well, those 2 are partially responsible for this statement.
This will be the fight I am looking forward to, just because Gaethje and Chandler will certainly be fight of the night as they both have a statement to make, there is absolutely 0% chance to make it boring.
Now, the big question is, are they going to wrestle?
I don't think they will, as none of them will want to engage and shoot, a bit similar to Usman vs Colby, 2 wrestlers tend to cancel each others out.
This rule doesn't seem to apply against Khabib, that will always find a way to the ground and finish the fight.
I like Michael Chandler, and he could have probably dealt with early Gaethje that was careless, and taking unnecessary damage, but against a more cautious version of the fighter, I don't see him winning this one.
Featherweight
Shane Burgos (13-3-0) vs. Billy Quarantillo (16-3-0)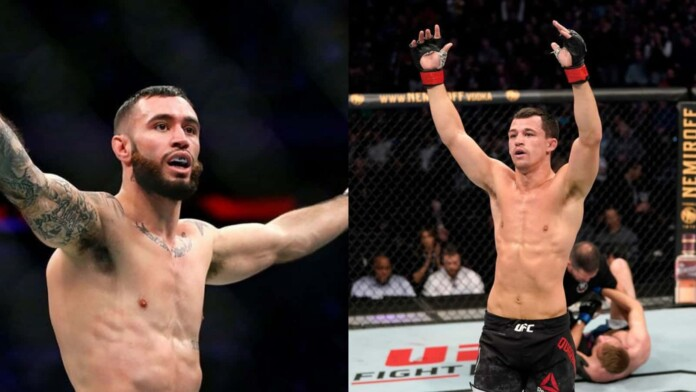 Alright I'll be quick, I've notice that If I go above 1000 words people just scroll all the way down 😁
Since Shane Burgos got knocked out by Edson Barboza, he probably had to deal with delayed CTE and some form of PTSD.
Now he is about to face Billy Quarantillo, that has been waiting for a moment to shine for a long time, it's a must win for Burgos but his opponent his hungry as fuck. I am waiting to see the face off and weigh in to give a prediction on this one.
Bantamweight
Frankie Edgar (23-9-1) vs. Marlon Vera (17-7-1)

SRC
We all love Frankie, what a legend!
Remember his last fight? I do, let's watch it again:
Alright, let's just say that Frankie Edgar's record at Bantamweight is 1-1, so it's very possible that he has the edge against Chito Verra, newly fan favourite since he hurt Suga Sean Omalley's feelings.
I am vouching for Frankie just for all time sake, but he lost 3 out of the last 5, so we all hope he can get this one and retire!