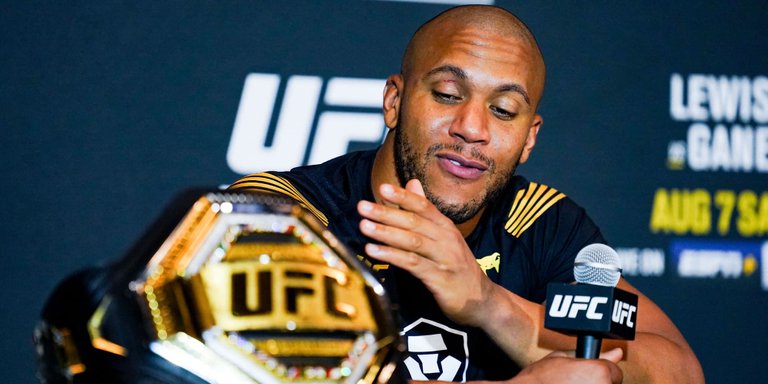 src
SCOOP!!!!
I couldn't help it, I told myself I wouldn't post this week on Sport Talk Social, give it time to breeze, I wanted to prove myself that I could spend one week, one little week without speaking about MMA, but it's apparently impossible.
The best thing ever just happened for the UFC heavyweight division, and it's something out of a movie:
There two gentlemen, that were supposedly teammates not so long ago, are now arch rivals, and only a fight for an unification belt will determine once and for all the true champion, the drama is just a bonus 😁.
If you dig a little deeper, it isn't some stale rivalry, and the beef seems to be legit. In his recent interview with Ariel Helwani, the coach/agent of Gane explains where the animosity comes from:
Let me sum up the situation in a few words:
Fernand Lopez, coach at the MMA factory, convinced young Francis Ngannou to pursue an MMA career, groomed him, let him sleep and train at the gym at no cost, treated him like family, but something changed after the current champion's victory streak for the belt.
The prodigy son became a little bit more confident after each fights, to the point of not getting along with his coach anymore even refusing to pay the gym membership (600 euros/year), the once successful duo was now deteriorating by the minute, and Francis decided to leave the French gym, to train at Xtreme Couture in the United States.
During this 40 minutes interview, Fernand do not hesitate to wash their dirty laundry, naming some money issues, pointing out Ngannou's attitude and ego's problem.
I remember not so long ago, Dana White was complaining the same way about Francis, so I can't help but think that there is a little bit of truth in what the coach is saying.
On the other hand, the current Interim UFC heavyweight Ciryl Gane stayed at the MMA factory, pulled the hours, stayed loyal to his band of brothers, eventually his work paid off.
This is going to make the narrative between Gane "Bon Gamin", the good kid, against the "heel" Francis Ngnannou one of the most entertaining fight in heavyweight history.
We could dwell on Francis's lack of generosity with his teammates, and his overly bloated ego, but this is the fighting game, and I truly believe that we need characters with a unhealthy amount of self belief, however Fernand wasn't having issues with Ngannou's confidence, but more that he never thanked him or his team for helping him, and taking him to the next level.
Right now, Francis is on his last fight on his contract, and the two ex teammates are supposed to face each other in January, 23rd as indicated on their website:


src
Now, of course rest assured that I will probably cover the event, but in the meantime we can very much look into some old footage of them sparring to decide who has the upper hand. I would love to know what our STS community think of the exchange, keep in mind that both of these fighters have drastically improved since the video was shot: