---
If you have been following me over the past couple of years, you will probably be just as surprised by the results this week as I was. In a game that I was projected to lose, I was able to pull out a victory. It wasn't pretty, but a win is a win and that is all that matters!
It is fairly safe to say that my wife's biological sister has become my new favorite sister in law (since she is the only one I have beat so far!).
Actually, I would have liked to see a higher score, but I think I am finally getting on the right track and am close to having my team narrowed down and locked in! Just in time for bye weeks to start happening...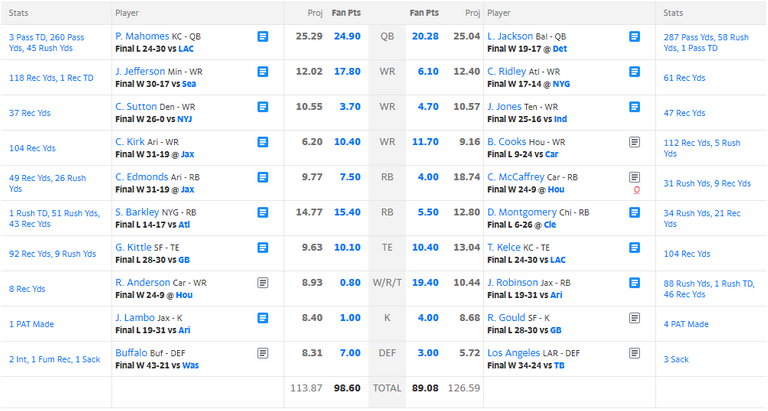 ---
As you can see, Mahomes had a fairly decent game on Sunday. It is actually a lot better if your quarter back is in a game that is close or they are down. That usually means they are going to throw the ball for long plays that will likely score you a lot of points. Or make you lose points due to interceptions... No risk no reward I guess.
I can't complain about Jefferson, five points over his projected score. Just shy of 20 points is something I would be happy with every week.
Sutton had what I am guessing was an off day. I think he played better last week and I don't see myself taking him out of my lineup just yet.
In the grand scheme of things, anything over 10 points per week is pretty great, so I can't be mad at Kirk either. Edmonds should have done a bit better, but like Sutton, I am not ready to give up on him yet.
This was Saquon Barkleys second game back after injury and it was nice to see him putting up about ten more points than he did last week. If he can stay healthy, I think he will have a permanent spot on my roster.
Kittle finally showed up with over ten points this week. I hope that continues to be the case going forward. If not, I don't know how much longer I can keep him off the bench. San Francisco is a decent team and it shouldn't be that hard to get one of the most experienced tight ends in the league the ball.
Anderson was absolutely lackluster in my flex spot. I am not sure what I am going to do there. I did just pick up a player from the Rams who had a lot of yards yesterday thanks to Matthew Stafford. I might swap Anderson out with him next week.
Again, I can't really be mad at my kicker for only scoring one point. That is just the way the game goes sometimes.
Finally, it is nice to see Buffalo putting up some decent points on defense this week. As you will see though, I still struggle with this position.

---
As you can see, my bench is starting to fill in nicely. I am afraid at one point I will have to guess between which players to play and I will likely choose wrong. That seems to be the case with my defense. Every week this season I have played my defense that scored the least points. This week was no exception. For the time being I plan on sticking with Buffalo and perhaps I will get lucky next week.
You actually know things are a bit crazy when Stafford puts up more points than Mahomes!
I am still fairly skeptical about this season, but this past week does give me a little hope that it won't be a total train wreck!
---
---

---