---
It was a very bittersweet win for me this weekend. Sure, I am now sitting at two and two on the season and things are not looking quite as bleak as they had been. The problem is, my win this past weekend came at the cost of a loss for my wife. Needless to say, she is very competitive and things can get a bit tense in the house when our teams play against each other in fantasy football.
It's not that she beats me or doesn't feed me or anything, but I know how hard she works for her team to do their best each week. Suffering a loss that puts her team at 1 and 3 on the season, by my hands no less is just horrible.
On my side of things, there is a lot to be happy and excited about after this week. Things might finally be starting to click and fingers crossed I might have some more wins coming my way in the future.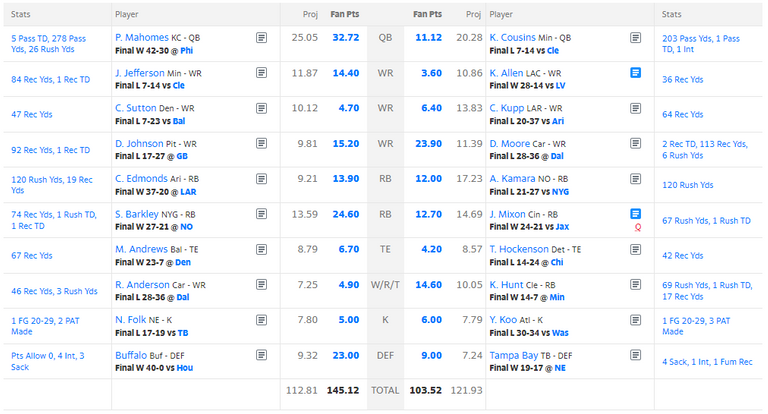 ---
As you can see, my week was bookended by the fantastic performances of Patrick Mahomes and the Buffalo Bills Defense. A whopping twenty three points from a defense is pretty good. I would be happy with half of that each week from my defense to be honest.
Likewise anything over 25 points is more than acceptable to me from the quarterback position. Unfortunately, Cousins didn't do so well for my wife. Kamara has been a bit of a letdown for her as well. He is usually pretty explosive, but this year he has been a bit of a dud so far.
I am going to have to take a hard look at Sutton and do some digging on his numbers. I can't say I am very happy with a sub 5 point week. If this is going to be the norm, then I am going to have to dump him like today's trash. In fact, besides week 2, his numbers have been pretty horrible never scoring over 5 points any of the other weeks. It might be time for a change...
I can't say I am overly impressed with Anderson either. Again, another wide receiver with less than five points. That is simply unacceptable. Folk I can't be mad at in the kicker position because he was actually a last minute add when my other kicker got cut or injured or something.
Finally, I am not sure what to do at the tight end position. Kittle is just horrible this year and has been hurt more than he has played I feel like. I don't have anyone great to move in to that position. Andrews did okay with 6.7 points, but I would still love to see that number a bit higher. Let's say somewhere around the 10 mark give or take a couple tenths of a point. I would be totally okay with that.

---
Overall, the benches wouldn't have made too much of an impact on this game. At least not on my side of things. I feel I made pretty much all the right calls. My wife could have played her other quarter back, but that only would have gained her 10 points and I beat her by about 35 points. Taylor at running back might have been a smart play too, but again, that would have only gained her maybe five more points.
Looking at her lineup, it is pretty clear that she was the victim of just a bad week. The Rams had a pretty lackluster game, so that took Kupp out of the running for her. Cousins lost in a very low scoring game. If you read the posts from my other account, you know how the Lions did this past weekend so that puts Hockinson on a shelf.
I don't think she is out of the running yet. I think she just needs to be patient and not rage swap a bunch of her players like I have been known to do in the past.
Likewise, I think I am in a decent position with still a lot of season ahead of us. Hopefully next weekend we can both pull out a win!
---
---

---