---
Just when I think that things are absolutely hopeless, a miracle comes along and tempts me to change my mind. Trust me, I know full well that next weekend I will probably fall back into the ranks of "loser", but for one golden week it is nice to see my team on the winning side for once.
The sad news is, my wife lost this week. It was mostly due to the thrashing that San Francisco gave The Rams last night. If Stafford would have had a better game, she likely would have won the week. Hopefully they can turn things around. My wife is now sitting precariously in the 4th place spot in the league. I am still at the bottom in 8th place, but I am at least tied with five other people record-wise.
So let's get to it: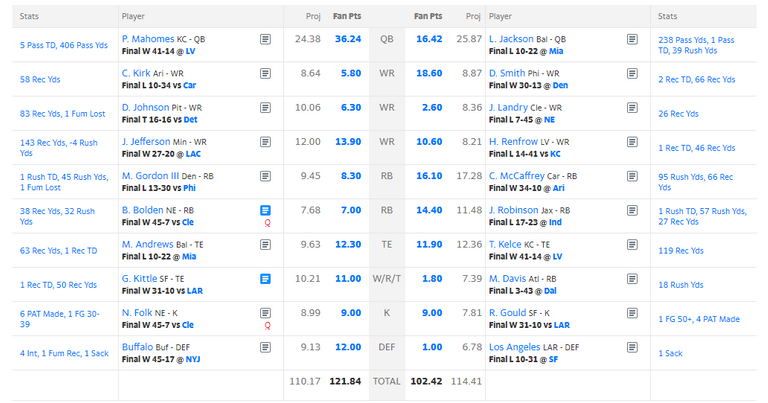 ---
I guess Mahomes decided that he still wants to play football versus just acting in commercials because he put up some monster points on Sunday. I can't complain one bit about 36 points from my star player. I just hope this wasn't a one-off and he can continue to produce the rest of the season.
I still struggle with wide receivers. I don't really know what the issue is, but less than ten points from each of them is just horrible. If they could average right around 10 I would probably be okay with that, but averaging around five is just unacceptable.
Jefferson was the sole bright spot in my receiving ranks. Still not a stellar performance, but at least consistent.
Running backs did okay. It will be nice to have Barkley back in my lineup. I just hope his injury doesn't cause him to be in and out the rest of the season.
Usually I wouldn't think that playing two tight ends would be advisable. It seems to have worked out for me this week though. Kittle looks to be getting back to 100% after being out the first part of the season and Andrews had a pretty nice showing with 12 points.
The Buffalo defense killed it with 12 points and even my kicker Folk had 9 points. He has been going back and forth between questionable and healthy, so I am not exactly sure what the future holds for him.

---
Looking at the bench, you can see that I made the absolutely right call playing Buffalo over Cleveland for my defense.
There isn't much else I would have done differently either. Sutton seems to be flailing and his days on my roster might be short. It never seems like I have anything good to say about him, so that should be a sign I think. Playing a different running back might have won my opponent the game. I am just happy that I was on the ride side of one of those mistakes for once!
Next week I play my wife, so I am not really sure how I want that to go. I'd love to see her keep her position near the top of the ranks. Hopefully Stafford and Kupp have a fantastic week and it will be out of my hands anyway.
Who are you going to be cheering for this week? @bozz or @mrsbozz?
---
---

---