---
It was an unexpected surprise this morning when I woke up and saw that I had won my matchup this past week. I was projected to lose going into the game last night, but miracle of miracles, I had a single player that basically carried my team.
I got lucky this week given the fact that there were early games on Sunday. It seems that every year I forget about the games in London and then I end up having a player that was on the bench who might have scored a lot of points. As I said, that wasn't the case this week.
I am curious though. Over here they make a really big deal about the games in London. Do the people in the UK really care as much about American Football as we think they do? Some of you folks over there (@slobberchops, @steevc) who follow me will have to let me know...
As you can see from the final score I was only projected to score about 113 points this week. That makes my 134 points a welcome sight. Even if my opponent had scored the 123 points they were projected to, I still would have won. That is something I am not really used to in this league!
---
Looking at the breakdown, you can see that Mahomes didn't have that great of a game this week. In fact, it was a loss for the Chiefs which has a lot of people concerned about Kansas Cities prospects this year. It was actually a rough week for me because my defense was playing against Mahomes, so while his score was a average 20 points, my defense scored an amazing 17 points. I will take that tradeoff.
Unfortunately, Wilson didn't have as good of a game and only scored 10 points for my opponent. Looking at my other players, Barkley I can't really be mad at. He got hurt almost immediately, so any points from him were basically a gift. He is likely going to be out for a bit, so I am going to need to find some players to move into that running back slot.
Edmonds had a horrible game, but he has had some decent ones the past couple of weeks, so I am willing to chalk this up to a bad day and continue with him moving forward (for now). Anderson has been dropped from my team. I am in the process of picking up someone new in place of him. Looking at his numbers the first five games of the season he has just been horrible. There is no reason to keep the dead weight.
Folk had a pretty amazing game for a kicker scoring 17 points and finally my clincher this week was Andrews with an amazing 30 points last night. He had 147 receiving yards, 2 touchdowns and 2 two point conversions. Talk about a career game!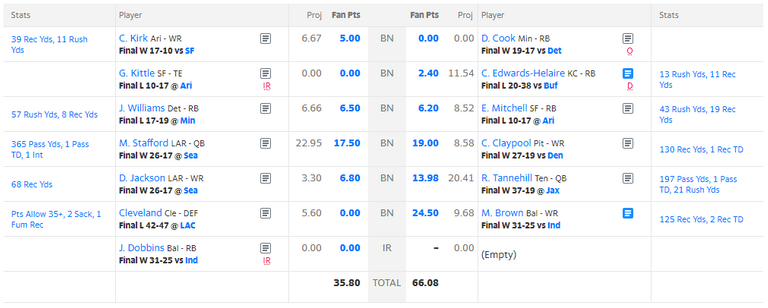 ---
Looking at the bench, there is definitely some things that my brother in law could have done differently to change the outcome against me. Those wide receivers with 19 and 24 points could have been too much for my team to overcome. On my side of things, there isn't much I would have changed. Sure Stafford scored more points than Mahomes, but it wasn't much. I definitely made the right call on defense and Buffalo will likely be my go to defense for the rest of the season.
Williams will likely have to pick up some slack in my lineup with Barkley out with that injury.
My wife suffered a tough loss this past week. Her teams scored 130 points which is pretty dang amazing, but her opponent scored 150 points. You can't really even be mad about that. It is just bad luck. 130 points would make you the winner pretty much any other week.
Next week should be a tough matchup against one of my other brother's in law. Right now he is projected to win, but I have some changes to make to my team yet. Ultimately, it all comes down to who shows up and who doesn't at each of the games this week.
Wish me luck!
---
---

---