---
Once again, a miscalculation and misplaced faith in my starting quarterback leads to a defeat for my time. The good news is, there are only a couple more weeks of this, so you shouldn't have to listen to me whine about how horrible my team is much longer.
My wife was able to snag a win this week, so all of our hopes are riding on her at this point. She is solidly sitting at #3 in our league even though she has the most total points of anyone in the league. I am sitting just shy of last place, but I guess the fact that I am not in last place is at least something...
With just four games left in the season, it already has my last two matchups (the playoffs) set as byes, so I have a feeling even the system knows that I don't stand a chance...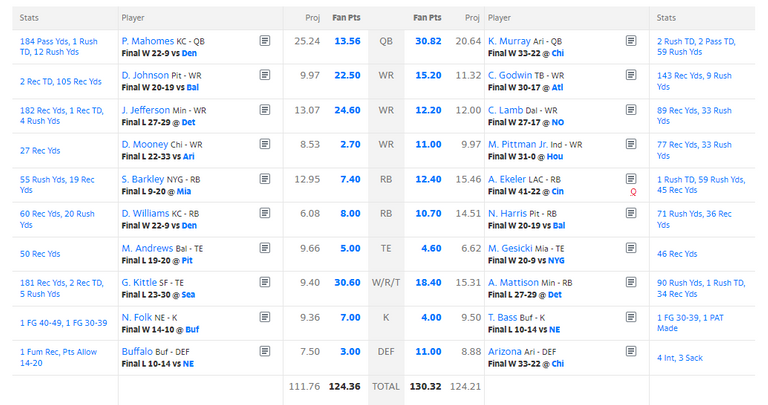 ---
As I said, Mahomes was once again a massive let down for me. I needed him to get at least twenty points and he absolutely failed to do that. It's a sad day when you say to yourself I should have played Cousins. Especially given the fact that Kirk had the crushing defeat, but he at least scored 20 points as you will see. That would have been the difference between winning and losing this week. Sad...
Besides Mooney, I can't really complain too much about the rest of my players. Jefferson was on fire like he has been the past couple of weeks. Johnson did pretty great too with both of them scoring over 20 points. That is what I love to see.
Barkley had some good runs, but was only able to get me 7 points. I would have preferred to see at least 10. Williams was a little closer to that 10 point mark that I want my players to strive for, but he still ended up falling short.
Andrews was quite disappointing at tight end with only five points, but thank goodness Kittle seems to finally be shaking off the dust and he put up a massive 30 points. If I could have gotten that every week I would be in a much different place right now.
Folk did decent with 7 points which isn't bad for a kicker.
Buffalo had a pretty hard loss against new England and that served me a lousy three points from their defense. I wish that number could have been closer to what they put up last week. 21 points from a defense is something I think anyone would take any day.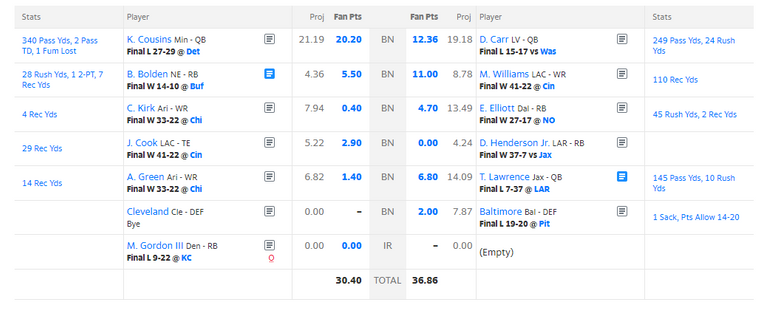 ---
As you can see from the bench players, Cousins was the more appropriate play at quarter back this week. None of my other players would have made too much of an impact one way or the other beyond that.
I just don't know what I could have done different this year. I tried to pick up players who were consistently putting up numbers. Perhaps putting all my hopes on Mahomes was a huge mistake. I feel like I had plenty of other gaps in my team besides him, but as they say, fixing problems usually starts at the top.
As I face another year of buying liquor for a champion that is not me, my only hope is that my wife can keep rolling along and get the two wins that really count at the end of the season.
Actually, I take that back. She likely needs to win at least one of the next two games and then the last two to be the champion. If I can win the next two, I might be able to squeak into the playoffs, but it is going to be close.
Although I am not happy about my record this year, I feel less likely to throw in the towel on next year than I did last year. If you remember, I was completely done after last year. It was going to be the end of the family fantasy football league. I am guessing right now my wife is pretty happy I didn't follow through.
---
---

---