---
I can't say as though I am super sad about the outcome of this weeks match-up. Sure, it would have been nice to win, but if I had to lose to anyone, I am certainly not mad losing to my wife. @mrsbozz's team had a monster week. Most of it can be attributed to her one running back that scored over 50 points, but we will get to that in a little bit.
I haven't looked yet, but this loss should cement my place at the bottom of the league. We should only have a handful of games left, so there isn't much chance that I am going to be able to make it to the playoffs. My wife has a shot though and I am going to be cheering for her for sure!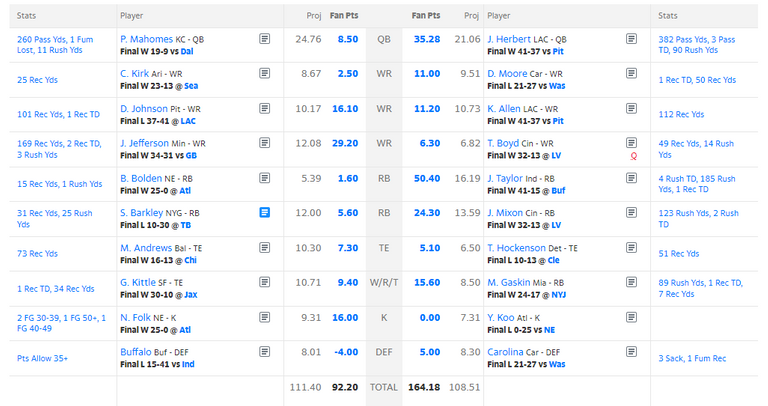 ---
As you can see, Mahomes let me down again. I guess I should have known. The announcers were hyping up the Dallas/Kansas City game so much, it should have been a given it was going to be a dud. I am still on the fence about this one though. How do you drop Mahomes. Even when he is sucking, he is still one of the best quarter backs in the NFL right now, so how do you not start him?
Lucky for me that won't be an issue this week as Kansas City is on bye, so I have no choice but to play Cousins.
Kirk was a let down at wide receiver. You will see what choice I should have made differently when I show the bench players in a little bit. Not that it would have mattered... Like I said, all you have to do is look at my wife's one play with 50.40 points and you know it was a lost cause this week.
Johnson and Jefferson both had good weeks. I can't complain about them at all. Bolden was horrible and it was nice to see Barkley back even though he didn't put up a huge score. I will gladly take the 5.6 points from him as long as he is healthy.
Andrews and Kittle were pretty reasonable at just shy of ten points a piece. I'd like to see them a bit higher, but tight ends are so hit or miss these days. You just kind of get what you get.
Folk did great as usual as kicker and playing Buffalo's defense was a huge mistake as you will see in just a second.

---
Clearly I should have played Cousins over Mahomes given the great game he had hooking up with Jefferson several times in their game.
Mooney should have been the clear choice over Kirk in the wide receiver slot. I know the Bears are playing Detroit this week on Thanksgiving day, so it is pretty much a given that I should play him. Especially as horrible as the Lions have been playing this year.
Likewise, I didn't account for the fact that Cleveland was playing Detroit, so it would have been a much smarter choice to play that defense versus the Buffalo defense this past week. I guess we live and learn.
Even Green would have been a better pick at wide receiver than Kirk. I am going to have to look at Kirk's numbers and see if he is going to earn a permanent spot on my bench or get dropped all-together.
As you can see, there is only one thing that my wife could have done different with her team to increase the beat down of me. Playing Tampa Bay defense instead of Carolina would have pushed her past 170 points for the week.
That is important because if she finds herself in a tie record-wise, it will go to total points for the tie-breaker. Having as many as possible could be the difference between her making it into the playoffs and watching from the sidelines.
She actually has the highest total score of anyone in the league, but her record is a little lower, so that has her sitting in third place. As expected, I am in last place...
Maybe next year I guess...
---
---

---