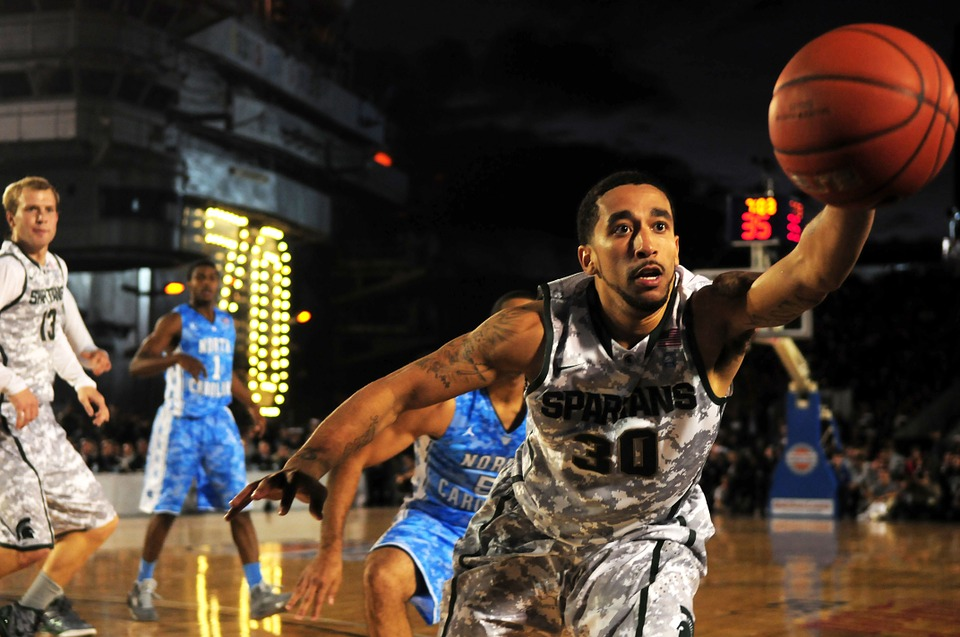 ---
I know, I know, this image is from a couple years back now, but it is honestly one of my favorites of the Michigan State Spartans. That game on the deck of the aircraft carrier was epic! All that matters is the fact that college basketball is back!
My wife and I were talking this morning and she mentioned how she didn't realize basketball started while football was still going on. I reminded her that yes, that is usually the case because when the football teams start doing bad, you can take solace in the fact that basketball is just starting to get going.
There were about twenty one top 25 games last night. If you have been following me for a while, you know that I usually only cover the top 25 teams in the nation, plus my Michigan State Spartans. Many times they are included in that top 25, other times (like last night), they are not.
I was watching unranked Michigan State play #3 Kansas last night and I have to say, I am not feeling too bad about the team this year. They seem a bit more cohesive. Sure, they lost by 13 points, but they just looked better on the floor. Many will attribute that to them having figured out their point guard situation, who really knows.
They are still having a lot of turn overs... sloppy play has plagued MSU for years now. They had 16 turn overs to Kansas' 8 and on 8 of the 16 turnovers Kansas scored. That's at least 16 points which clearly could have made the difference in the outcome of the game.
Also, if you have been following me for a while, you know that I love upsets (unless it is the Spartans). Upsets are what I typically focus on when I do these recaps.
Tuesday night only gave us one upset and that was unranked Navy over #25 Virginia. Since the Cavaliers were at the bottom of the ranks anyway, can you really call it an upset? There were some games that came very close...
Unranked Akron only fell to #17 Ohio State by one point 66 to 67. That is something to be proud of and it may have people rethinking the #17 rank that the Buckeyes currently have. Unranked Hofstra took #15 Houston into overtime but fell 75 to 83. Finally, in a game that I am sure @patrickulrich was watching closely, #9 Duke just edged out #10 Kentucky 79 to 71.
I personally can't stand Duke, so that is a bit of a heartbreaker.
Gonzaga remains at #1 this year (so far), I am sure @bigtom13 is happy about that. I am kind of happy to see UCLA at #2, it makes me feel a little better about them knocking Michigan State out of the tournament in the first round last year.
While I am not shocked to see U of M in the #6 slot, it does make me a little nervous about this season for the Spartans. I have zero doubt they will find themselves in the top 25 at some point, but Michigan had a pretty decent team last year and I am guessing a lot of the in-state focus will be on them.
In some ways, that is fine by me. Let MSU fly under the radar getting better and better and then shock everyone when it comes tournament time. It wouldn't be the first time an Izzo team has done that.
No matter what happens, I know this season should be an exciting one filled with close games, upsets, and buzzer beaters. I just hope Covid is under control enough that it doesn't disrupt contests like it did last year.
---
---

---