About forty-five minutes after the final whistle blows in the Raiders-Bengals Wild Card Playoff Game, 431 miles to the east in Buffalo, New York another Playoff Game will be set to kickoff.
The New England Patriots (10-7) visit a very familiar AFC East Divisional foe 454 miles to their west in Buffalo to face the Bills (11-6) in a primetime playoff battle in Highmark Stadium. This game looks like it will be an awesome frozen January classic up in the Northeast, just about 100 miles outside of Canada. The temperatures in this game will be around 0-10°F. Taking wind chills into account temperatures will feel below 0 (below -17°C). The hits will only feel that much more painful to these players. With the season on the line, this is going to be wild.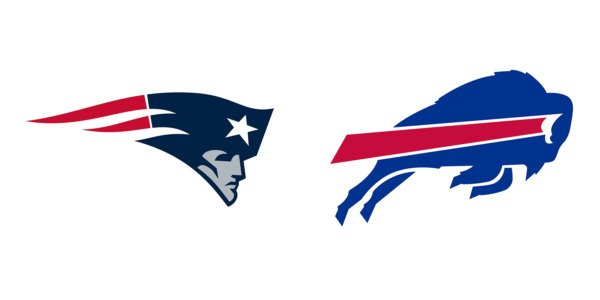 Even though I pretty much despise the Patriots for all the suffering they have put me and pretty much every NFL fanbase/franchise throughout the past two decades, my entire football watching life, I can't really deny that it's pretty interesting to watch them proceed after the departure of the GOAT Tom Brady. This is the second season since Brady has left and Bill Belichick and the Patriots seem to have a solid future. I don't agree with people when they say that the Patriots are set to dominate like they have before, but it's safe to say they will definitely be around and compete despite losing the GOAT.
So yes, this is the second season post Brady for the Patriots and after missing the playoffs last season, they are back in the tournament. While the Patriots and Tom were in the process of a divorce, their division rival, the Buffalo friggin' Bills, basically struck gold by drafting and developing young QB Josh Allen who in the past three seasons or so, transformed the Bills into a serious contender.
So it's pretty interesting to see this new era of AFC East football. The Patriots are in the post season like they normally are, but this time they'll be the visiting team when for so long they played their playoff games at home in Gillette Stadium. What is kind of more interesting is that of all teams the Pats will visit in this road playoff game, they are visiting the Bills. The Bills franchise that Brady and Belichick absolutely bullied and manhandled for two decades. I wonder how this one plays out!
Being AFC East Divisional opponents this will be the third game between these two teams in this NFL season. They split their season series 1-1. If I were a fan of either team, I would absolutely dread this type of playoff game. Playing a team three times is just intense. Knowing a team that well is just intense. These two teams are going to be really going at it. It will be a war of a Wild Card Game.
Bills-Patriots Dec. 6th Matchup (Pats Win)
Bills Patriots Dec. 26th Matchup (Bills Win)
The Bills are the AFC East Champs this season. But since the season series was 1-1, the Pats could get bragging rights as unofficial AFC East Division Champs with a victory Saturday night which just adds another layer of intrigue to this game.
---
How the Bills and Patriots matchup
The Bills prefer passing a lot with their elite QB Josh Allen. If they sense an advantage throwing the ball, they will abuse defenses. Josh Allen is a big strong QB with a rocket for an arm. He has very good mobility and athleticism. He reminds me of a Ben Roethlisberger (from Ben's prime) 2.0 or + or something like that. With a sprinkle of Cam Newton. The Bills have run the ball a little more in recent games, but they really don't run it too often especially considering Josh Allen is basically a running back. Maybe having fresher running backs will help in the post-season though.
The Patriots are built a bit differently on offense. They have a rookie QB named Mac Jones. While Mac shows a lot of promise especially at his young age, he is clearly the inferior QB in this playoff matchup. Overall the Pats don't rely on Mac to really produce crazy offense. Mac is really a nice game manager at this point in his young career. The Pats offense is basically run heavy, with a respectable pass game.
Now defensively is where these teams are pretty similar. Both teams have been known to have pretty strong defenses.
Really besides their offenses being pretty different, these teams are quite similar in pretty much every other department. Defense, coaching, physicality. These are solid teams.
Here is a bit of interesting stats/info about these two teams.
Notable Patriots W-L during the regular season
| Good Wins | Bad Losses |
| --- | --- |
| Chargers | 0-2 vs Dolphins |
| Titans | - |
| Bills | - |
The Patriots didn't have an overly difficult schedule but they did beat some solid competition and didn't take any losses to many bad teams. The Dolphins were not an awful team to lose to, but the Patriots should have been good enough to beat them at least once. Especially since the Dolphins are a divisional rival. But yeah, not really any glaring losses unless I missed one.
Notable Bills W-L during the regular season
| Good Wins | Bad Losses |
| --- | --- |
| Chiefs | Jaguars |
| Patriots | - |
Looking at the Bills Schedule, they didn't have many signature wins. Frankly, to many people the Bills were a very slight disappointment this past season. Many people projected them to be a top two seed before the season started. Six losses and an L to the terrible Jags is not really what people expected. Still they did have a very good season overall.
Offensive Weapons for each team
Quarterbacks
| Mac Jones - PATRIOTS QB | Regular Season Stat Category | Josh Allen - BILLS QB |
| --- | --- | --- |
| 3,801 | Passing Yards | 4,407 |
| 22 | Passing Touchdowns | 36 |
| 13 | Interceptions | 15 |
| 92.5 | QB Rating | 92.2 |
| 67.6 | Completion % | 63.3 |
| 129 | Rushing Yards | 763 |
| 0 | Rushing Touchdowns | 6 |
I marked the better stat bold, it's sort of confusing when it comes to the interceptions, but I didn't want to make it seem like Mac Jones had more INTs by marking it bold when in fact he has less INTs than Josh. It works for the most part LOL.
Josh Allen is clearly the better weapon, but it is mildly interesting to see that Mac has the slightly better QB rating and a decently better completion percentage. Josh is asked to do A LOT more than Mac though.
Top Receivers
| WR Jakobi Meyers - PATRIOTS Top Receiving Target | Regular Season Stat Category | WR Stefon Diggs - BILLS Top Receiving Target |
| --- | --- | --- |
| 83 | Receptions | 103 |
| 866 | Receiving Yards | 1,225 |
| 2 | Receiving Touchdowns | 10 |
| 10.4 | Yards Per Reception | 11.9 |
The Bills have one of the scariest receivers in the NFL with Star wideout Stefon Diggs. He puts up numbers like that year in and year out!
Top Running Backs
| RB Damien Harris - PATRIOTS Top Running Back | Regular Season Stat Category | WR Devin Singletary - BILLS Top Running Back |
| --- | --- | --- |
| 929 | Rushing Yards | 870 |
| 15 | Rushing Touchdowns | 7 |
| 4.6 | Yards Per Carry | 4.6 |
| 1,061 | Yards from Scrimmage | 1,098 |
| 15 | Total Touchdowns | 8 |
| 15 | Games Played | 17 |
Both the Patriots and Bills have similar production at running back, although the Patriots seem more willing to use their backs than the Bills.
#2 Receiving Options
| WR Kendrick Bourne - PATRIOTS #2 Receiving Target | Regular Season Stat Category | WR Cole Beasley - BILLS #2 Receiver |
| --- | --- | --- |
| 55 | Receptions | 82 |
| 800 | Receiving Yards | 693 |
| 5 | Receiving Touchdowns | 1 |
| 14.5 | Yards Per Reception | 8.5 |
The Bills are pretty deep at receiver, but I am surprised that the Patriots have got some strong depth of their own!
Prediction/Final Thoughts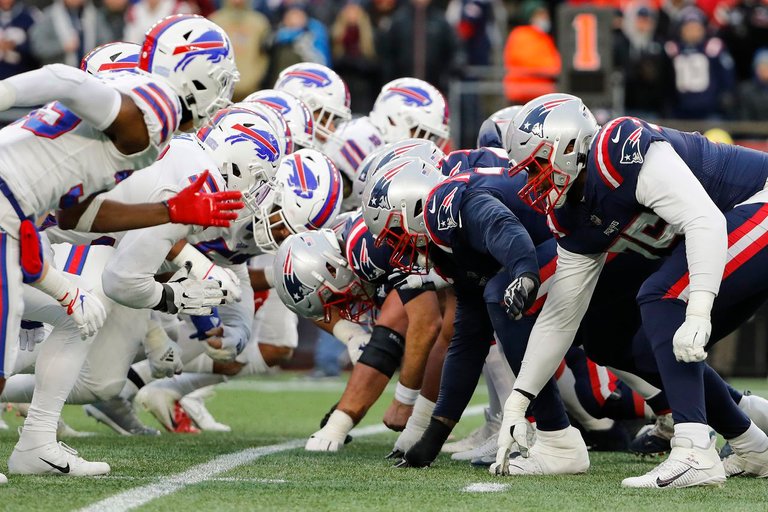 Src
This game will be gritty and physical, more than the Bengals-Raiders game I believe. I doubt there will be a blowout here.
The way I see this game is it comes down to Pats Head Coach Bill Belichick vs Bills QB Josh Allen. Those two men are probably the most important people in this matchup.
I am absolutely shell-shocked by twenty plus years of abuse at the hands of the Patriots organization. Those past memories make me REALLY want to pick the Pats.
But logically, I think the Bills offense will be too much. Especially since both defenses are at similar skill levels, it will come down to whose offense is better and I think Bills are better offensively. They have more options and ways to get yards, I think LOL.
My prediction is the Bills win 27-20 in a fun frozen fight.
The Pats absolutely have a chance. If they can control the ball/clock, and Bill Belichick can breakdown a team he's already played twice, then I won't be surprised to see the Patriots get the job done.
I just think the Bills have a bit too much talent. But this game will be GOOD!!! I can't wait!!!
Comment who you got winning!!!